Eclipse with National Author Amanda Rose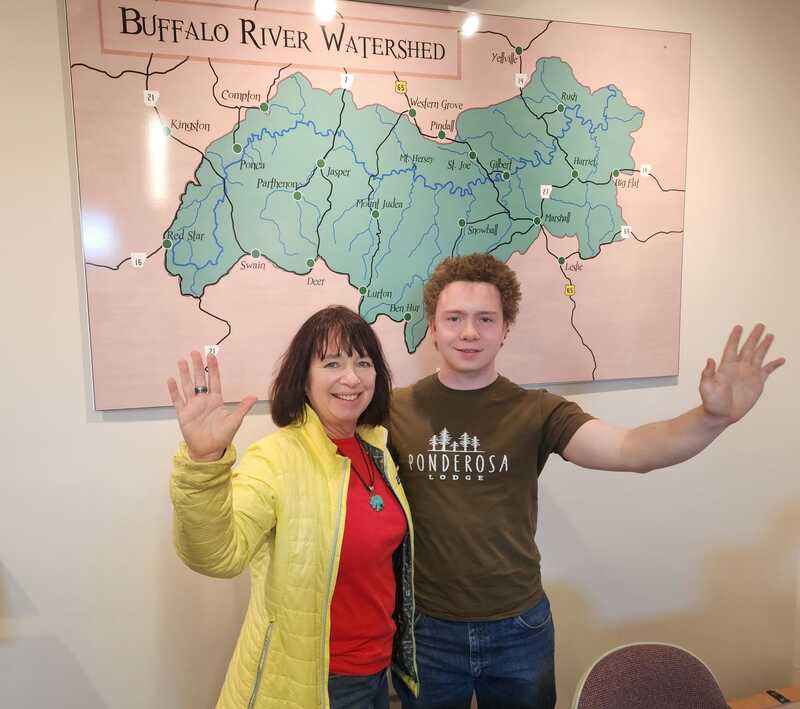 Searcy County is "The Best Place on Earth" to View 2024Eclipse
The nation's abuzz about the coming total solar eclipsein April 2024, and Searcy County is in the optimal viewing path of it. While wesurely agree that our region is one of the best places on earth, it turns outthat others agree, notably social media influencer Amanda Rose, a native ofCalifornia. Amanda recently invited her community of 200,000 people to view theeclipse here in Searcy County.
Amanda viewed the 2017 total solar eclipse in Wyoming andwas so struck by the unique experience of the eclipse that she gathered herfamily and said:
"We will spend the next six years finding the bestplace on earth to view the 2024 eclipse. We will invite all the cool people weknow to join us."
Amanda fancied a region with a diversity of naturallocations — rivers, streams, meadows, mountaintops, and waterfalls — and heridea was that her friends and family would break up and observe the eclipse inmany little spots and then report their stories back to the larger group.
She was inspired by her son's eclipse experience: In theminutes before totality, her 15-year-old son, Frederick, broke from the groupand ran out into an open field to find it filled with chirping crickets. Thecrickets went silent during the total eclipse.
Amanda did not join her son in the field that day withthe crickets. She weighed 260 pounds and was limping with an injured knee. Shewas down 20 pounds from a high weight of 280 but losing 20 pounds was notenough to improve that limp, so she set one other intention under that darkenedsky: She would go home and lose weight and not miss the crickets of 2024.
"It's not even just the crickets," Amanda adds. "My sonwas an avid hiker and encouraging me out on those trails. I limped around thosetrailheads longing for more. During that 2017 eclipse, I was ready for change."
An eclipse symbolizes a new beginning, and Amanda couldnot have guessed what would happen next.
On her drive home from Wyoming in 2017, she took a familyvacation photo with her son in Yellowstone National Park and then launched intoher weight loss project.
"I ate in a way that combined all my knowledge from pastdiet failures. I began to lose weight rapidly, and then I got out and startedto hike."
Amanda measured her weight loss progress according towhether she could hike better. She hiked her way to her lowest adult weight.
She posted her meals and hikes on Facebook. People startedfollowing her and losing weight themselves. Amanda started a little Facebookgroup called, "Eat Like a Bear!"
One year after her 2017 Yellowstone photo, she and herson recreated the photo, inspiring Amanda's viral video "A Postcard fromYellowstone," growing the Facebook community even more.
Five years later, the 2018 Facebook video is consideredthe most impactful weight loss video in social media and is recognized byFacebook's parent company, Meta. Thousands of people have lost weight as a resultof the video, including over 200 people who have lost at least 100 pounds.
Many members of her Eat Like a Bear! community are nowout hiking, kayaking, and horseback riding, some for the first time in theirlives.
"In 2017, I could not have imagined any of this,especially that my friends and family network was about to grow by tens ofthousands of people. I wondered if I should view the eclipse on my own orinvite everyone, as I had intended. That's when I talked to Darryl Treat of theSearcy County Chamber of Commerce and told him what I was about to do."
Searcy County and the Buffalo River watershed offereverything Amanda envisioned: a diversity of natural places, a dark sky, and awelcome mat from the entire county.
Amanda explains: "Much of Arkansas offers those greatassets, but Searcy County stands out in three ways: its dark sky, itsrootedness in American folk culture, and – perhaps most importantly – thesymbolism of the Buffalo National River. Rivers show us direction. May we allget a renewed sense of direction on April 8, 2024, in the region of thenation's largest untamed river."
In April 2023, Amanda visited Searcy County and invitedthe Eat Like a Bear! community to join her right here for the coming eclipse. Sheanticipates having 250 community members at that time down over 100 pounds andplans a celebration here to mark that community milestone – their 250th"Century Bear" Celebration. She asked each of the members to set a "Big Goal"for April 8, 2024: Not what they would weigh or what they would look like ontheir eclipse trip, but what they will be doing while living their most vibrantlives.
Lana from Wisconsin will drive for 13 hours along theMississippi to join the Eat Like a Bear! community. Lana exclaims, "I've neverdone anything or been so excited about something like this for myself…EVER!! Ican't stop thinking about it!"
Jackie from Connecticut is not only focused on losingover 100 pounds, but she reports: "I will be on top of a hill twirling aroundwith arms outstretched – because I will be FREE!"
Amanda's immediate family in California will join her forthe eclipse, but Amanda is also related to many of our early settler familieshere in the Ozarks. If you are descended from the Morrisons, Roses, Treats,Maynes, or Tilleys, you and Amanda are likely related.
Eat Like a Bear! community members have made housingreservations across Searcy County and will meet in April 2024 to hike, float,and bicycle, all in celebration of their achievements, and they will make newgoals for the future.
Join Amanda on Tuesday, June 6, 2023 at 10:00 a.m. inthe Searcy County Library in Marshall to discuss all things eclipse-related.
Buffalo River Eclipse Photos:
https://www.dropbox.com/s/oucbvfaykspg601/Buffalo-eclipse-horizontal.jpg?dl=0
https://www.dropbox.com/s/z83acfwqjb8t94a/Buffalo-eclipse-vertical.jpg?dl=0
Before/After 2017 Total Solar Eclipse Viral Photos:
https://www.dropbox.com/s/0duqahzamddrifm/Yellowstone1A.jpg?dl=0
https://www.dropbox.com/s/fujaz308e6o4ml4/Yellowstone1B.jpg?dl=0