Bikepacking
This is a great
documentary video
on the Ozark Grinder Trail! Filmed and produced by the talented Marshall East program at the Searcy County School District! That Dirk Merle is pretty good too! #heartoftheozarkscycling
Shuttle Services:

Call North Arkansas Transportation Service (NATS) and schedule transportation. 870-741-8008

Richland Creek Campground:

Richland Creek Campground has a small, picturesque mountain stream with waterfalls, rocks, and bluffs. There is access to the Richland Creek Wilderness Area. 11 family camping units. Because of very rough roads, visitors are not encouraged to take camping trailers to Richland Creek.
Witts Springs Community Center:

Primitive tent camping is available for a donation and that the Witts Springs Rider Village is available for cycling groups who want to come to Searcy County to explore, train, and have some fellowship. Also lodging inside the old gymnasium, two separate dressing rooms that include showers and restrooms in each. Offer a secure area for riders and bicycles. Has a large kitchen/dining area with a refrigerator, and microwave. Tuesday thru Friday Cindy's Country Store is open from 8 am until 4:30 pm and Saturday 8 am until 3:30 pm offering snacks and a home cooked meal.

Address:

196 West Hwy 16
Witts Springs, AR 72686.
For access call:
Doug Weaver 870-496-2371
Russell Blair 870-496-2437

Vickie Garner 870-496-2440
Janis Lee 870-496-2212.
Tyler Bend:

Buffalo National River Visitor Center. 10 walk-in and 28 drive-in sites on a first come first served basis. The campground provides flush toilet restrooms, one with hot showers. Water spigots are located throughout the campground. A dump station and tank filler are located near the park entrance at Highway 65 but there are no RV hookups in the campground. The campground is open year round. For pricing and reservations, go to the
Recreation.gov
website or call (877) 444-6777.
Grinders Ferry and Shine Eye:
Grinders Ferry and Shine Eye both offer easily-accessible but primitive camping right on the Buffalo River. Vault toilets will be open year round with limited or no servicing. No trash services will be provided. No fees are charged.
Buffalo Camping & Canoeing:
Located in Gilbert, Buffalo Camping and Canoeing has primitive campgrounds 3/4 a mile from the Buffalo River. They have RV and tent sites, shower houses and restrooms, but no dump station. May require a float reservation before booking the campground. To make reservations visit the
Buffalo Camping & Canoeing website
or call 870-439-2888.
Gilbert RV Campground:
RV section has 18 grass and gravel lots. 20, 30, and 50 amp electric hookups. The tent section of the campground offers eight tent sites, including "glamping". Visit the
Gilbert RV Campground website
for more information.
Snowball Gymnasium:
Restroom and shelter.
Address:
328 Richland Road, St. Joe.
For Access call: Marvin Switzer @ (870) 504-0376

Boston Mountain RV Park in Marshall:
Restroom, shower, and camping spot. Nightly rate $10.
Address:
2356 N Hwy 65, Marshall AR (35°54'28.81"N 92°39'52.74"W)
For access call: (870) 448-3151
Leslie Community Center:
Restroom and shelter.
Address:
409 Cypress Street, Leslie AR 72645
For access call: Mayor Talitha Hardin (870) 391-1313

Meadowcreek:
Located in the heart of a 1,600 acre protected valley 3 ½ miles south of Fox, Arkansas, Meadowcreek offers two dormitories for bikers and other outdoor enthusiasts. Each dormitory has both camp style multiple bunk beds and private rooms. There are large lounge areas and kitchens in both facilities as well as Wi-Fi. The grounds at Meadowcreek are ideal for camping. The scenery is spectacular and the atmosphere es welcoming.
Address:

5156 Meadow Creek Road, Fox, AR 72051.
Charges:

$25 a day each for the first ten guests

$15 a day each for additional guests

$15 a day each for additional days

$10 donation to Meadowcreek for Campsites.
Contact:
Gary Valen at 870-363-4452 or e-mail at
gvalen4@outlook.com
. You can also reserve rooms or sites on the
Meadowcreek website
. PayPal is accepted. Meals can be arranged with advance notice.
Shirley:
City Park is available for camping.
Between Shirley & Fairfield Bay $12 tent camping. Visit the Golden Pond RV Park website for more information.

552 AR-9, Shirley, AR 72153
(501) 250-5560

Fairfield Bay:
Shuttle Service: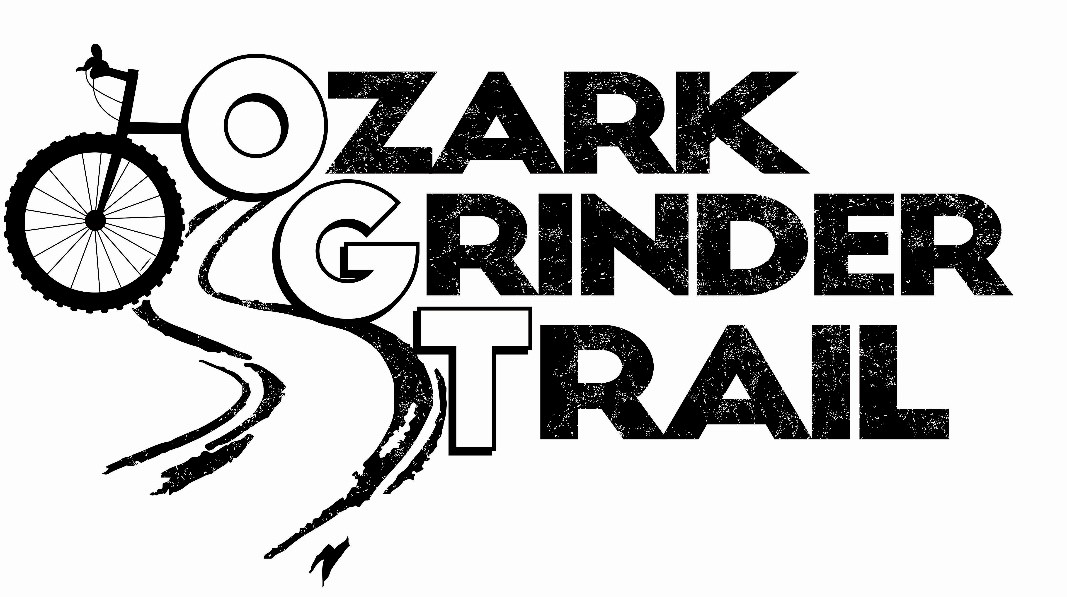 The Ozark Grinder Trail has more than 150 miles of gravel, pavement and trail! Predominately gravel accessible through some of the Ozarks most wild and scenic countryside!

Close to 10,000 feet of elevation gain! The trail runs inside the Buffalo National River with fabulous river overlooks, is also within the Ozark National Forest running alongside the Richland Creek Wilderness, and Richland Creek (a National Wild and Scenic River), Falling Water Creek, and the Middle Fork of the Little Red River along portions of the railroad bed of the long-departed Missouri & North Arkansas Railroad.

This trail also sports some steep mountain climbs! The Ozark Grinder Trail occasionally runs in conjunction with or in close proximity to the Ozark Highlands Trail and the Buffalo River Trail hiking trails. There are multiple access points to the trail. Tyler Bend at the Buffalo National River, Snowball, Witt Springs, Leslie, Marshall, Oxley, Shirley, and Fairfield Bay. North of the Buffalo River At times the trail will be impassable due to high water at low water bridge crossings. The annual Pedestal Rock Road Bike Ride and Lick Fork Gravel Grind in Witts Springs are on the 3rd Saturday in October.

Never attempt a dangerous river or stream crossing! Turn around, don't drown. Come back another day!

It is also recommended that you always ride with a partner.

Many sections of the trail are outside of cell phone coverage.
For more information, check out the Ozark Grinder Trail's Facebook page.