Great Motorcycle Roads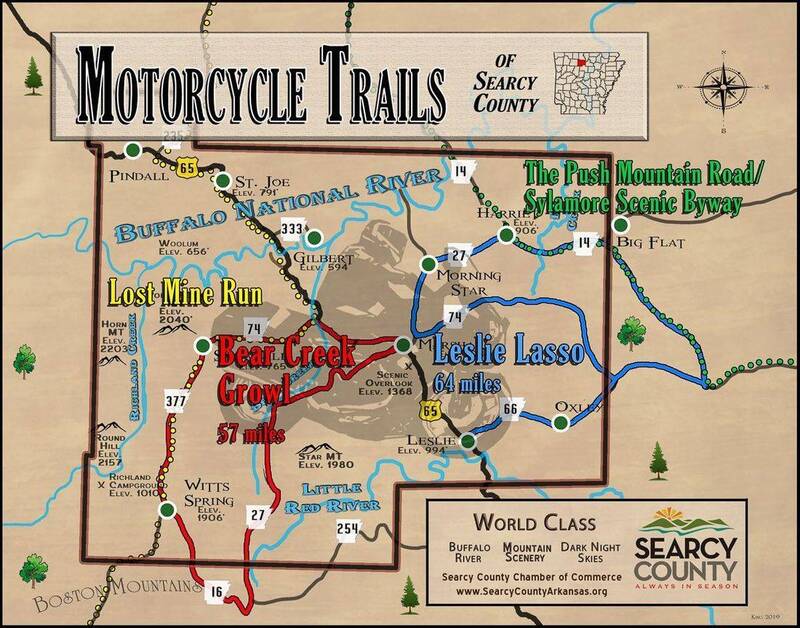 Thousands of riders every year tour our four-season Ozarks roads! The 57-mile Bear Creek Growl and the 64-mile Leslie Lasso are two routes that combine into one ride called the Growl-Lasso! The combined 121-mile ride takes in Marshall and the historic Searcy County Courthouse. The route also passes by the Kenda Drive-In, the only year-round drive-in movie theater in Arkansas! Leaving Marshall, the rider will see one of Arkansas' most panoramic views as they look west toward Point Peter Mountain. Descending into the lush farmlands of the Bear Creek valley, the rider might see some wild elk! The trail motors through Snowball, the gateway to the Richland Valley, the Ozark Highlands Trail, and horseback trailheads. Witts Springs offers a wonderful food stop in the higher regions of the Ozarks! The descent back toward Marshall is beautiful and passes an old wooden plank bridge across Bear Creek! Miles of bucolic farm country scenery!

The Leslie Lasso portion begins on State Highway 66, in the quaint Ozark Mountain town of Leslie, home to shops, parks, great restaurants, and a wood-fired brick oven bakery that produces old-world sourdough bread!
Traveling east from Leslie involves tackling a mountainous, 11 percent grade. After passing through Oxley, another wonderful food stop, the route descends into Stone County. In the community of Timbo, the route takes a left on State Highway 263. The scenic drive continues through the community of Onia and just to the west of the Ozark National Forest. At the town of Big Flat, the rider will turn left onto Highway 14. Here the Leslie Lasso re-enters Searcy County. The next eight miles twist and curve and transit the clear waters of Big Creek. In Harriet, the route follows State Highway 27 back toward Marshall passing by the South Maumee Road, which leads to hiking, canoe access, and a primitive campground on the Buffalo National River. Short of Marshall, the ride turns onto State Highway 74. This portion offers pastoral countryside with little traffic before intersecting once again with Highway 66 and returning to Leslie.

The Lost Mine Run enters Searcy County near both Pindall and Witts Springs. Both communities are wonderful food stops! The US Highway 65 portion offers more great food in St. Joe as well as the St. Joe M&NA Railroad Depot Museum! This scenic ride passes near the Buffalo River resort town of Gilbert and the National Park Visitor Center at Tyler Bend!

The Push Mountain Road/Sylamore Scenic Byway transits Searcy County from Big Flat to the Highway 14 Bridge. Very scenic, crooked roads take you past horseback riding stables in Big Flat, a large Christian retreat, a canoe outfitter in Harriet, rental cabins, a wonderful food stop north of Harriet, and a great guest farm before descending down to the Buffalo National River!