Historic Leslie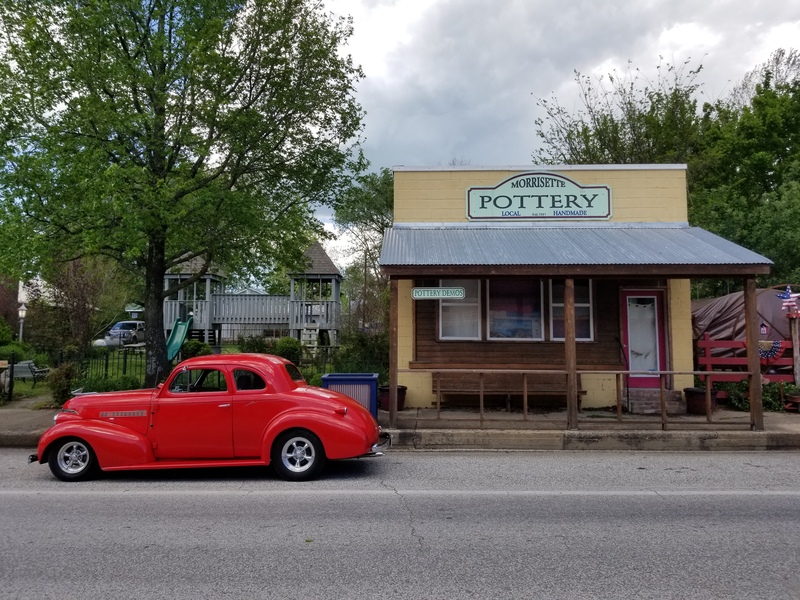 Leslie is a quaint Ozarks town that retains historic charm from a bygone era, a throwback to a simpler time in America! This is clearly evident on Main Street, which hosts a Commercial Historic District! Geographically, Leslie sits at the foot of two mountains, is nestled along Cove Creek, and is the starting point of a rich, flat agricultural cove, Wiley's Cove, named after a Native American, Chief Wiley.
Great Trails! The Leslie Lasso Motorcycle Route is a 64-mile round trip loop on some great roads! The curves, hills, and scenery of our lightly travelled Ozarks highways are ideal for riding! The climb out of Leslie on State Highway 66 is on an 11 percent grade! The Leslie Lasso combines with the Bear Creek Growl to form the heralded 120+ mile Growl-Lasso route! The Ozark Grinder Trail for cyclists passes over the Cove Creek Bridge in Leslie as part of an epic gravel-grinding route of almost 160 miles and 13,000 feet of elevation between the Ozarks resort towns of Gilbert and Fairfield Bay! The trail covers some of the most wild, scenic, and remote parts of the north central Arkansas Ozarks. There are both 14-mile and 18-mile loops connecting Leslie with Baker and Rail Roads. Each December, local cyclists ride the loops in an event called the "Chocolate Roll" in tribute to Searcy County's famous local specialty dessert that is baked at both Wade's Convenience Store and the Red River Cafe! The Arkansas High Country Race for cyclists comes through town each year. The race brings some of America's greatest long-distance, multi-surface bikepackers into town in the midst of a 1,000+ mile journey that involves approximately 84,000 feet of climbing! An Arkansas Gravel Series race, called "The Chocolate Roll" is a new local 48.3 mile cycling race or ride at Leslie!
Leslie is also part of the Arkansas Quilt Trails for painted barn quilts!

Great Food! Leslie has some of the finest places to eat in all the Ozarks! Serenity Farm Bread bakes old-world sourdough bread in a wood-fired brick oven at its downtown location on Main Street and has world-class pastries at its pastry shop on Highway 65! Named by Food & Wine Magazine as the Best Bread in Arkansas! The Skylark Café is known for its gourmet cuisine and scrumptious desserts, and Ryan's Main Street Grill is renowned for its mouthwatering and delicious steaks and desserts! The Red River Cafe is a great restaurant of Southern Food and great desserts sited along the Middle Fork of the Little Red River! If fast food is your choice, you can pick up fried chicken, pizza, a variety of breakfast foods, or chocolate rolls at Wade's Convenience Store. Don't forget to get a latte' or ice cream at Cove Creek Emporium downtown or try a specialty tea or shake at Cove Creek Nutrition! If fresh meat is more your speed, Carnivore's is a wild-game processor available during hunting season!
Great Shopping! Huge selection of rare and desirable antiques available at Antiques And, Cove Creek Emporium, and the Leslie Antique Mall! Excellent gifts available at L.A. Salon & Boutique, Morrisette Pottery, Brick House Artisans, The Little Hill Shop, and beautiful wood crafts from Wisakon Woods!
Leslie has multiple cottage-style lodging facilities and RV parks! For information, contact the Greater Searcy County Chamber of Commerce at 8704482557.
Live Music or theatre can be found at the Ozark Heritage Arts Center in a stunning performing arts theatre that hosts frequent live performances of different genres of music as well as plays, Shakespeare, musicals, and other special events!
The Leslie Homecoming is held the third weekend in June and is the largest event of the year! A main attraction of the homecoming is the Leslie Rodeo! Other seasonal events are also held throughout the year.
The Leslie Fun Park has a nine-hole disc golf course that is free and open to the public as well as horseshoe pits, playground equipment, a quarter mile walking track, basketball court, and pavilion! Just outside Leslie at Pine Grove Trails along Trace Ridge Road is fabulous horseback riding on miles of scenic Ozark Mountain riding trails! Featuring RV sites, western style bath house, and clean horse stalls. Out on Highway 66, the Stem Rock Natural Area offers a gentle hike through pine and hardwood forest to an amazing geographic feature known as Stem Rock. It also has a hidden geocache!