Mountain Music Highway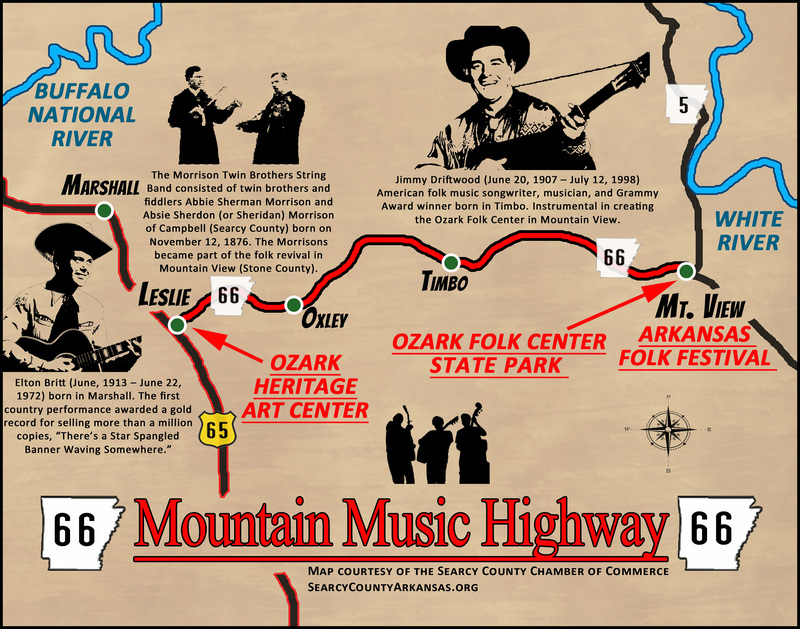 The Mountain Music Highway is the entire 30 mile length of Arkansas State Highway 66 in the rugged Ozarks between Leslie and Mountain View! On one end is the
fantastic food town of Leslie with its wonderful
Ozark Heritage Arts Center and Museu
m! On the other end is Mountain View, the Folk Music Capital of the World," boasting the
Ozark Folk Center State Par
k and the famous Arkansas Folk Festival! Arkansas Highway 66 connects two music-rich towns in an area with a strong music history! New area performers such as
Sylamore Specia
l and others are carrying on the traditions! (Map by Bob King)
Ashley's Melody Men and Hugh Ashley were some of the earliest performers in Country Music! They hailed from near Leslie, Arkansas deep in the Ozarks. Their story and others will be told along the Mountain Music Highway from Leslie to Mountain View! Hugh Ashley helped both Elton Britt and Jimmy Driftwood get started in their careers. Elton Britt, of near Marshall, had the 1st Gold Record in Country Music History! Jimmy Driftwood won the Grammy Award for Song of the Year for "The Battle of New Orleans and helped establish the Ozark Folk Center."
https://encyclopediaofarkansas.net/entries/hubert-carl-5257/
The Morrison Twins of Campbell in Searcy County, Abbie and Absie, are honored in one of the first displays that you walk through in the Country Music Hall of Fame in Nashville, TN. Absie's fiddle is in the Ozark Heritage Arts Center in Leslie!